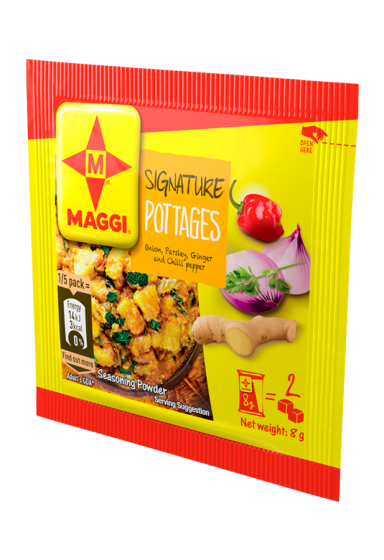 Product Information
Maggi Signature Pottages contains iodized salt and is made from a rich blend of natural ingredients to give a rich aroma and taste to your dishes.
Preparation: Use 1 satchet in cooking a dish for 5 people, do not add salt.
Ingredients list
Ingredients: Iodised salt, Flavour enhancers: Sodium glutamate, Sodium guanylate, Sodium inosinate; Sugar, Glucose Syrup, Refined palm oil, Flavours (chicken, garlic, ginger, pepper), Onion, Curry, smoked fish, crayfish, Hydrolyzed soya beans, savoury flavour, clove, Parsley, Garlic, Ginger, Chilli, Yeast extract. Contains: Crustaceans, Fish, Gluten, Soya. May contain: Molluscs
More Information
Product Nutrition
Energy:
Fat:
Fiber:
Protien:
Sodium:
Iron:
Lodine:
Average Composition* ()
3 Kcal
0.1g
0g
0.1g
0.33g
0mg
0.04mg
Product Allergen
Yes - according to the recipe with the addition
No - according to the recipe without the addition
n / a - no information
Feature and Benefits
Iodine: one serving covers more than 20% of daily iodine needs. Helps reduce the risk of goiter and growth disorders.