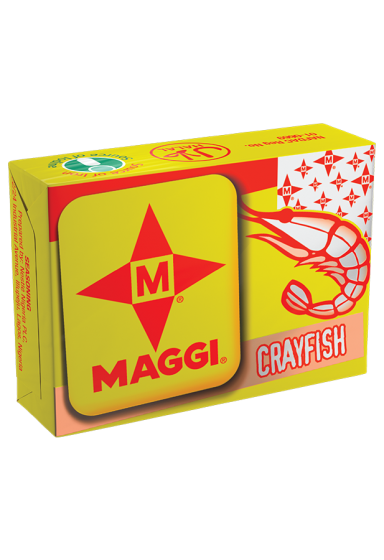 Product Information
Fortified with iron and contains i iodized salt, natural crayfish powder and mixed spices. It is the best seasoning for fish or seafood based dishes and grills.
Preparation: Use 2 tablets in cooking a dish for 6 people, do not add salt.
Available Sizes: Maggi Crayfish 10g tablets (60 units of 10g tablets per tray)
Ingredients list
Ingredients: Iodised salt, flavour enhancers: sodium glutamate, sodium inosinate and sodium guanylate; starch, sugar, vegetable oil, shrimp, maltodextrin, water, fish, ferric pyrophosphate, spices, colorants (E120, E160b). Contains Fish and shrimp
More Information
Product Nutrition
Energy:
Fat:
Carbohydrates:
Fiber:
Protien:
Sodium:
Iron:
Lodine:
Average Composition* ()
7 Kcal
0.2g
1 g
0 g
0.3 g
0.68 g
2.1 mg
0.08 mg
Product Allergen
Yes - according to the recipe with the addition
No - according to the recipe without the addition
n / a - no information
Feature and Benefits
Iron: One serving provides 15% of daily iron needs, Iron is needed for blood formation.
Iodine: one serving covers more than 50% of daily iodine need. Iodine helps reduce the risk of goiter and growth disorders.