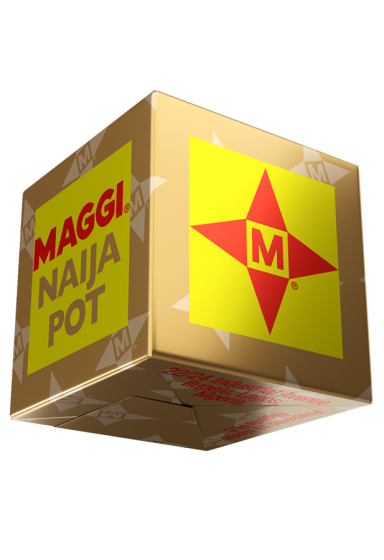 Product Information
Contains iodized salt and made with natural ingredients like Crayfish, stock fish, smoked fish and mixed spices. It is the best seasoning to bring out the bottom pot taste of your dishes.
Preparation: Use 5cubes in cooking a dish for 6 people, do not add salt.
Available Sizes: Maggi Naija Pot Cube 4g (50 units of 4g cubes per Satchet, 25 units of 4g cubes per Satchet)
Ingredients list
Ingredients: Iodised salt, Sugar, sodium glutamate, Starch, Crayfish and fish 5% (crayfish, stock fish & smoked heerings), refined palm oil, yeast extract, chicken flavour, savoury flavour, tumeric powder. Contains: crayfish, fish. May contain: Molluscs
More Information
Product Nutrition
Energy:
Fat:
Carbohydrates:
Protien:
Sodium:
Iron:
Average Composition* ()
6 Kcal
0.1g
1.0g
0.3g
0.66g
0mg
Product Allergen
Yes - according to the recipe with the addition
No - according to the recipe without the addition
n / a - no information
Feature and Benefits
Iodine: one serving covers more than 50% of daily iodine needs. Helps reduce the risk of goiter and growth disorders.